Save money
by comparing
Over 426,000 products and growing
Vengeance Trilogy - Zavvi Exclusive
This collectable set includes three of director Chan-Wook Park's most celebrated films; his vengeance trilogy. Although the films do not follow on from one another, they have the same central theme at their centres; retribution and its effects on both the victim and the aggressor. This collection of three ultra-violent films includes Sympathy for Mr Vengeance, Oldboy And Lady Vengeance. Sympathy for Mr. Vengeance (2002) Deaf mute Ryu (Shin Ha-Kyun) has saved all his hard-earned money for his sister who requires a kidney transplant. He has the wrong blood type to be able to donate one of his kidneys, so he arranges a trade with a group of black-market organ dealers: one of his kidneys and 10 million won in return for their finding a kidney for his sister. Just as the criminals renege on the deal, a legitimate kidney becomes available for transplant. Unfortunately, Ryu no longer has the 10 million won required for the hospital to perform the operation. In retaliation, he and his political activist girlfriend kidnap his former boss's daughter - but events quickly spiral quickly out of control... Old Boy (2003) Is another vibrant and twisted revenge thriller. Oh Dae-Su (Choi Min-Sik) has never taken his role as husband and father seriously and has just been released from police custody for drunk and disorderly behaviour on his own baby daughter's birthday. When he finds himself in solitary confinement in a prison cell after being mysteriously abducted on the street, he has no idea what is going on or why. A year into his imprisonment, he learns from the small television in his cell that his wife is dead, and that he himself is suspected of the crime. When, fifteen years later, he is released as suddenly and inexplicably as he was detained, he is determined to track down his tormentors and wreak his revenge. But little does he know that his kidnappers have even worse horrors in store for him... Lady Vengeance (2005) Geum-ja Lee (Yeong-ae Lee) is a young woman who works for underworld crime boss Mr Baek (Min-sik Choi). Taking the fall for the abduction and murder of a child, Geum-ja is sent to prison at the age of 19. When she realises that she has been framed by Mr Baek himself, she spends 13 years in prison planning her revenge. On her release, she exacts her vengeance against Mr Baek's goons, before a final confrontation with the mentor who betrayed her. Awards and Reviews: Sympathy for Mr Vengeance: "Utterly compelling…I urge you to see it" – Hotdog "A work of fierce emotional power" – i-D Old Boy: "A tense, no holds barred, knuckle-gnawing roller coaster ride…truly astonishing" - The Times Eye "…arrives with the Quentin Tarantino seal of approval" – San Francisco Chronicle Lady Vengeance: "See it twice" – The Independent on Sunday "All hail this saviour for a jaded post-Tarantino generation" - Metro
Price: £18.99 from Zavvi
Related Products
---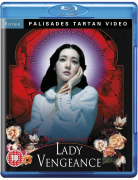 Following the hugely successful Oldboy, Lady Vengeance is another showcase for the extraordinary talents of Park Chan-Wook.Lee Guem-Ja has been released from jail having served 13 years for the kidnapping and murder of a child. A seemingly unassuming...
---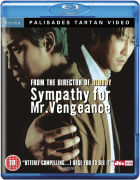 Ryu is a deaf worker driven to extremes to secure a kidney transplant for his gravely ill sister.
---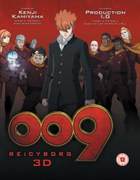 Many years ago, nine humans were captured and transformed into cyborgs for the purposes of becoming agents of evil. Instead, they rebelled, becoming champions of justice anytime the earth was in need. Now, in a post-9/11 world, the meaning of justice...
---
---