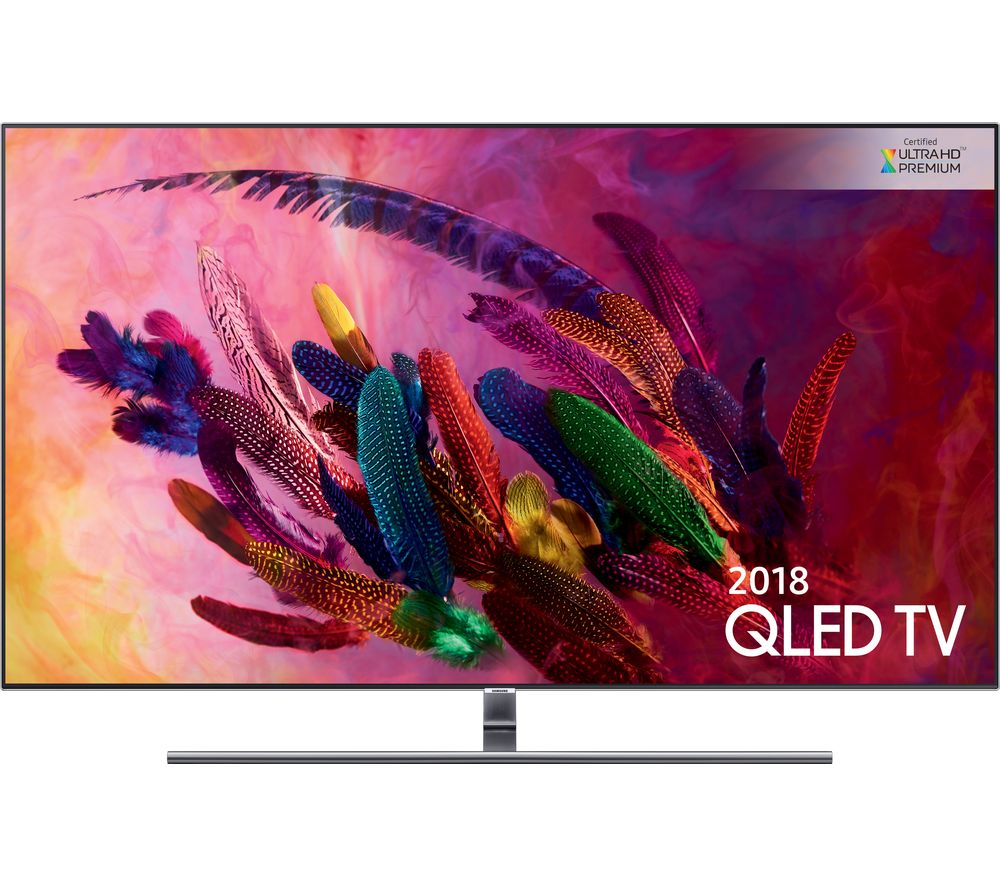 65" SAMSUNG QE65Q7FNATXXU Smart 4K Ultra HD HDR QLED TV, Gold
Top features: - Q Colour, Q Contrast and Q HDR for fantastic quality - Ambient mode means your TV looks good even when it's off - Near-invisible cable makes your home neater - Universal guide puts everything in one place - 360° design looks stunning Q Colour, Q Contrast and Q HDREnjoy images that look fantastic with the Samsung QE65Q7FNATXXU 65" Smart 4K Ultra HD HDR QLED TV. Q Colour helps to provide bright and vibrant colour, making film nights better than ever before. It delivers 100% colour volume, with over a billion colours and shades - perfect for all of the rich colours of a nature documentary.Q Contrast means that your TV looks great night or day, with deep blacks and bright whites. The screen keeps reflections to a minimum, which means that even if you're enjoying an afternoon box-set binge, you'll be able to see your screen clearly.If you're a film fan, you'll love the richness Q HDR brings to this 4K UHD screen. HDR 1500 brings out all the detail hidden in the shadows of a moody horror movie, and can even optimise each frame of a film so that everything is detailed and textured.Ambient modeNow your TV can look great, even when you're not watching it. Ambient mode lets the 65Q7FNATXXU show decorative content, photos and useful information, or can even mimic the wall sitting behind it.You'll be able to play light background music too, adding a classy touch to any room.Near-invisible cableFed up with cables trailing to your TV and snaking across your TV stand? The 65Q7FN uses a near-invisible cable to cut down on clutter. Using a single optical cable and One Connect Box for all of your connections, you can keep everything neatly hidden.The One Connect Box connects all of your devices and inputs, like your Blu-ray player and games consoles. You can hide it out of view and control your devices using Bluetooth.Universal guideNot sure what to watch? Whether you love streaming shows or just fancy catching up on your favourite soap, the universal guide makes it easy to find what you like to watch. It can even recommend popular shows and tailor suggestions just for you, so you'll always have something to keep you entertained.360° designDesigned using premium materials, these TVs have a minimalist design that look stunning from every angle. The screen is the real feature here, which is why the 65Q7 has a clean back and almost bezel-less design.Effortless installationFor setup without the squabbles, our Team Knowhow experts can connect your new TV to your Blu-ray player, sound bar, and other devices. They'll even get you online so you can put your feet up and start watching straight away. Pass the popcorn.Essential extrasWant your TV wall mounted? No problem. We've got brackets that tilt, swivel, or fix your TV in place for the best viewing spot in the house. Alternatively, browse our range of TV stands - we've got enough designs to keep even the pickiest interior designer happy.Avoid the disappointment of getting your shiny new telly home and realising you don't have the cable you need to connect your games console or Blu-ray player. Sandstrom Gold Series HDMI cables support all resolutions and come with a reassuring lifetime guarantee.Please note: Some features of Ambient Mode require a compatible Android or iOS phone and sufficient space around the TV to operate. It will have varying results on complex wall designs, patterns, and/or unusual colours.
Price: £2499.00 from Currys
| Stockist | Catalogue Product Name | Price | |
| --- | --- | --- | --- |
| | 65" SAMSUNG QE65Q7FNATXXU Smart 4K Ultra HD HDR QLED TV, Gold | £2499.00 | |
---
OHPRICE © 2008 - 2018. This is an affiliate based portal and we only get paid upon successful purchase.